The Solution Is Galvanized
THEN
Now: Galvanized Brake Pads
Benefits of Galvanized Steel
Corrosion resistance superior to powder coating
Longer product life: Galvanized steel will outlast the friction material
Fit and function is improved, reduced returns, noise benefits
Premium product that matches OE
Visually appealing
Ensures optimal performance over time
No possibility of damage
Perfect for harsh environments like braking
The zinc coating forms its own oxide coating over time, further protecting steel from corrosion
Environmentally friendly, 100% recyclable
The Role of Backing Plates in Brake Pads
Your car's braking system is composed of various mechanical parts that work in tandem to bring your vehicle to a halt. Ultimately, friction material presses against the rotor of your wheel and your car stops. This friction material is attached to a steel part known as a backing plate. Friction material and steel backing plates are attached in one of two ways, either through adhesives which can breakdown or through mechanical attachment such as NRS™. The harsh braking climate can lead to brake pad failure as a result of separation between friction material and the backing plate. This can result from adhesive breakdown which leads to a complete separation between friction material and braking plate. Inferior steel can also lead to brake pad failure, highlighting the importance of using steel which is either pickled and oiled or galvanized. Equally important to attachment, backing plates should fit and function within the brake caliper. NRS backing plates meet this requirement.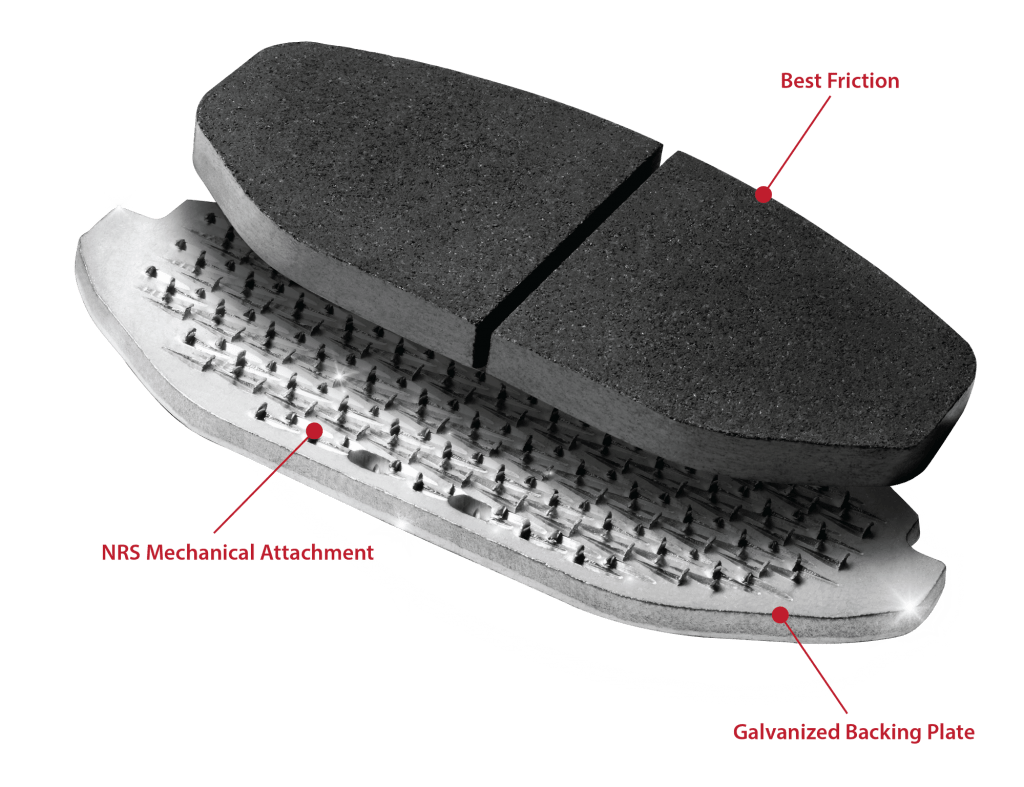 NRS Galvanized Safety Zone
A majority of after-market brake pads today use steel back-plates that, in their raw condition, are already susceptible to corrosion; this, owing to the fact that they are not pickled-and-oiled. This is then further compounded by the use of inconsistently-applied adhesives to bond the friction material to the back-plate; and, the adhesives are easily thermally degraded during normal service. After the pads are hot-pressed and ground to final thickness, paint is applied, often under the mistaken notion that it is a corrosion inhibitor. A simple, effective, one-step manner to address the series of above shortcomings is by engineering a
Safety Braking Zone
into the brake pad at the interface between the friction material and back-plate. The Safety Braking Zone is comprised of in-situ
Galvanized Hooks
at the back-plate surface. The
Hooks
provide mechanical retention of the friction material overcoming inadequacies of the adhesive usage. The
Galvanic
protection prevents corrosion and its ingress affording a very robust rust inhibition over the
life-time
of the brake pad. At the very least, brake pads ought not to be replaced for back-plate corrosion well before they actually wear out! So why should you know a little bit more about this? The consequence of overlooking this solution, as we know from
actual vehicle testing
, is an elongation of braking stopping distance by 46 feet (or 14 meters). Check it out right
here
.
Field Study of Painted Brake Pads
(Global Brake Safety Council)
0 % Excessive Rust
0 % Pad Edge-Lift/Delamination
0 % Broken Friction
This study shares field-use observations related to brake friction pad rust and its direct impact on vehicle safety. Analysis to date indicates that a relatively high number of these failures can lead to braking instability or loss of braking.
Click here for full bulletin
Paint vs. Galvanized Steel Study
Click here for the full study