NRS ULTRA
PREMIUM FRICTION
Superior Stopping Power When You Need It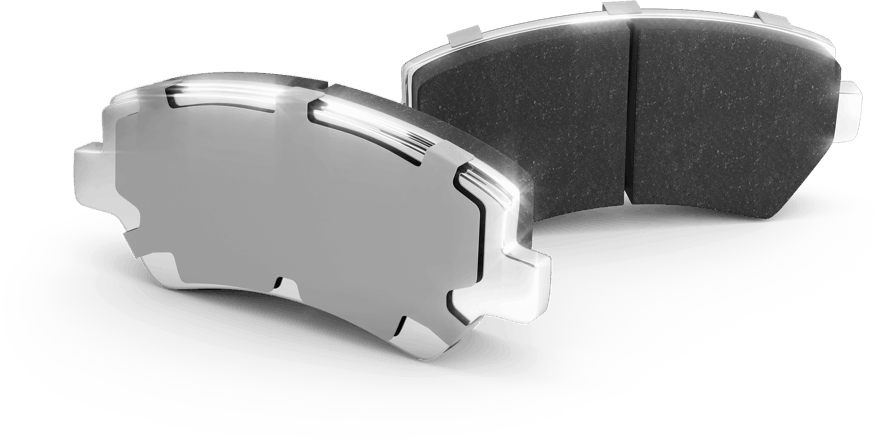 Our semi-metallic brake pads have more durability
and longevity than traditional pads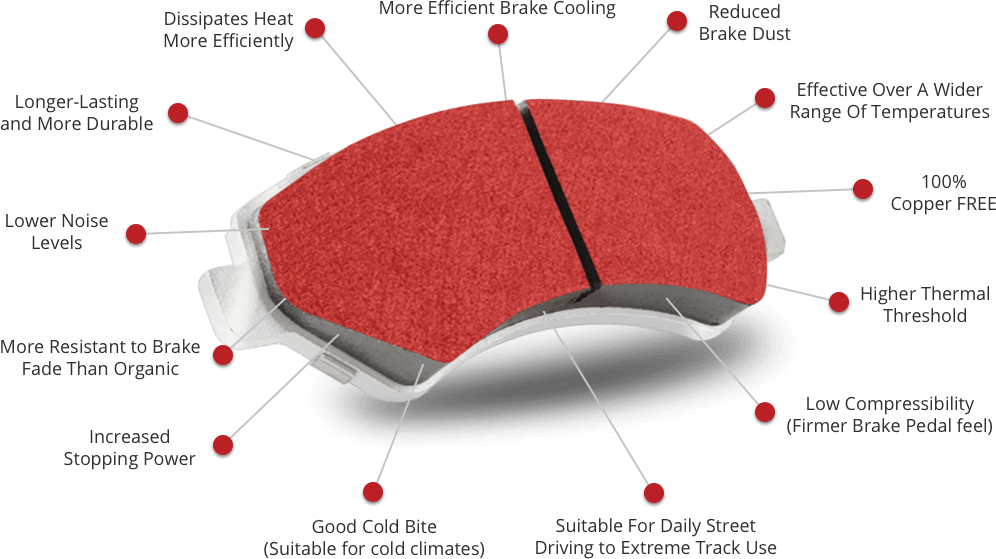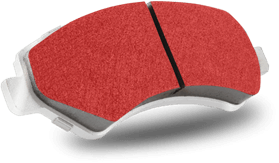 More Efficient Brake Cooling
Dissipates Heat More Efficiently
Reduced Brake Dust
Longer-Lasting and More Durable
Effective Over A Wider Range Of Temperatures
Lower Noise Levels
100% Copper FREE
More Resistant to Brake Fade Than Organic
Increased Stopping Power
Low Compressibility

(Firmer Brake Pedal feel)

Good Cold Bite

(Suitable for cold climates)

Suitable For Daily Street Driving to Extreme Track Use
OUR FRICTION MATERIALS COVER EVERY VEHICLE APPLICATION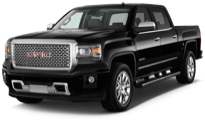 Premium
Metallic
For everyday driving conditions
Ideal for Passenger Cars, Light Trucks, Vans, Import and Domestic
Copper Free
Ceramic
Unique & exclusive green Providing "quiet, clean and cool" stops
Ideal for Passenger Cars, Light Trucks, Vans, Performance Vehicles Import and Domestic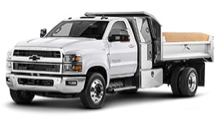 Extreme
Duty
Demanding & challenging driving conditions
Ideal for Sport Utility Vehicles, Light to Medium Duty Trucks, Fleets Vehicles: Towing, Police, Taxi, Ambulances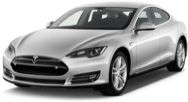 Hybrid
Specific
Provide the best of both worlds Metallic and Ceramic
Ideal for Passenger Cars, SUVs, Import and Domestic
NRS FRICTION HAS SUPERIOR STOPPING POWER
NRS Brake Pad Stop Test - 60 MPH to 0


NRS Brake Pads stop up to 33 Feet Shorter than the Competition
Our brakes not only stop shorter, they're Safer as well
A majority of after-market brake pads today use painted steel back-plates and inconsistently-applied adhesives to bond the friction material to the back-plate. These adhesives are easily thermally degraded during normal service.
The simple, effective, manner to address the series of above is engineering a Safety Braking Zone into the brake pad at the interface between the friction material and back-plate.
The Safety Braking Zone is comprised of in-situ Galvanized Hooks at the back-plate surface. The Hooks provide mechanical retention of the friction material overcoming inadequacies of the adhesive usage.
The Galvanic protection prevents corrosion and its ingress affording a very robust rust inhibition over the life-time of the brake pad. Brake pads ought not to be replaced for back-plate corrosion well before they actually wear out!
Our Galvanized Brake Pads Are Also The Quietest
Even after repeated stops, NRS Brakes still remain the quietest Number of stops with an audible reading over 80dB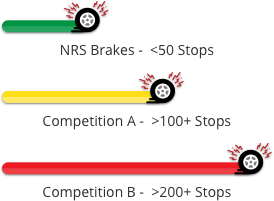 NRS has the least number of stops with an audible reading over 80dB
NRS Brake Pads & Our Earth Friendly Promise
We meet and exceed all U.S. Environmental regulations for brake production

NRS Brakes Ultra-Premium products are environmentally friendly and adhere to the new low copper requirements under California and Washington restrictions.
Our metallics and copper free ceramics already meet the LEVEL A, B, and N mandated U.S. regulations.
These symbols are your assurance that NRS Brakes is committed to our environment. NRS brake pads are 100% copper FREE as well as being 100% recyclable.
The LeafMark™ is a trademark of The Motor and Equipment Manufacturers Association.
Let's find the right Brakes for your Vehicle.