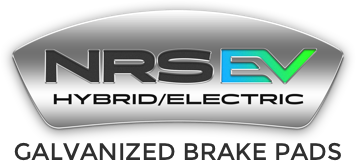 NEW for 2020. NRS Galvanized Brake Pads Now available for the Hino H195H - Hybrid
NRS is first to market with aftermarket brake pads for the Hino Hybrid Vehicles
Experience the NRS Difference
NRS is the only manufacturer that has specifically designed pads for electric/hybrid vehicle technology
Traditional brake pads are not safe for use on electric vehicles. Brake defects in advanced driver-assistance systems (ADAS) will be catastrophic. ADAS vehicles demand higher quality of all parts, especially safety items such as brakes. As environmental concerns continue to grow – traditional pads still utilized parts and materials that ignore this issue.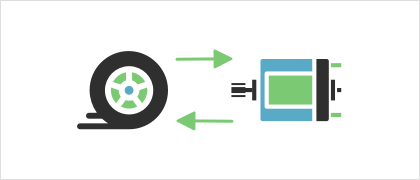 Inherent Electric/Hybrid Issues
1

As moisture creeps through the porous nature of the friction material, it is compromising the untreated backing plate.

2

Usually moisture in the friction material is dissipated as heat is created through normal braking routines.

3

Hybrid and electric vehicles do not experience this same creation of heat. As a result, we are seeing a significant increase in brake pad separation (failure) that is beginning to become widely recognized as a result of corrosion.
Our galvanized backing plates ensure no rust or corrosion occurs from lack of use due to regen braking.
Our patented SHARKMetal™ mechanical attachment system physically adheres the friction material to the backing plate. This ensures the pad material cannot separate from the backing plate for the entire life cycle of the brake pad.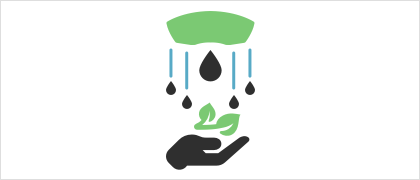 Environmental Factors
1

On our roads, there is debris from over 2-million brake pads released into the environment each day in North America alone.

2

Over 3-million pounds of rust, and paint. All of this excess material contains toxic amounts of copper, iron, and lead.

3

There are enough toxic chemicals and debris from brake pads on North American vehicles to fill 4-million large-sized coffee cups or nearly 70 transport trailer truck loads.
Our brake pads are made from galvanized steel and were designed with the environment in mind.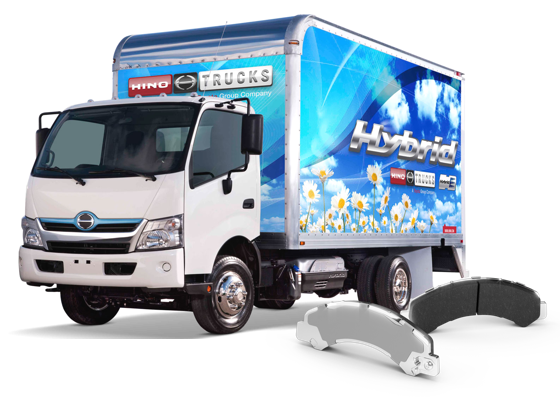 Fits: 2013-2020 Hino 195H
Models: 195H Front & Rear brakes
Features and Benefits:
Nu-Lok tabbed shim technology resulting in no-shim migration
Galvanized steel backing plates ensure backing plate will survive the entire life cycle of the friction material
NRS SHARKMetal™ technology to ensure your brake pads last the maximum life
Sku: D1683
$214.99
The NRS Galvanized Difference
Your EV doesn't brake like your old car used to.
See why you need a new kind of brake pad.

Fully Galvanized Backing Plates
A majority of after-market brake pads today use painted back-plates and inconsistently applied adhesives to bond the friction material to the back-plate. These adhesives are easily thermally degraded during normal service.
NRS galvanic protection prevents corrosion and its ingress, affording a very robust rust inhibition over the life-time of the brake pad. Brake pads ought not to be replaced for back-plate corrosion well before they actually wear out!
To find out more about
NRS Galvanization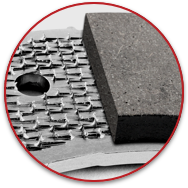 We have engineered a Safety Braking Zone into every one of our brake pads.
Instead of adhesives, our brake pads have In-situ galvanized hooks – called SHARKMetal™ on the backing-plate surface. These hooks provide a mechanical retention of the friction material, overcoming inadequacies
of adhesive usage.
This guarantees that the friction material will never delaminate, providing a longer life and safer brake operation for the entire life of the pad.
Find out more about the NRS Attachment Technology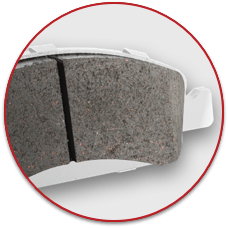 Premium Friction Materials
We use the best engineered friction materials in our brake pads.
Our semi-metallic brake pads have more durability and longevity than traditional pads.
Ideal for passenger cars, light trucks, vans, import and domestic, our brake pads stop sooner, last longer, and are significantly quieter than traditional brake pads.
To find out more about NRS Friction Materials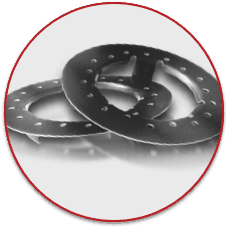 Noise Canceling Piston Insert
This revolutionary noise suppression device snaps into place and works with every open piston caliper with ease. The floating design reduces vibration, which reduces brake noise by 90%.
The noise cancelling piston insert is included with all galvanized NRS brake pads.
Let's find the right Brakes for your Vehicle.