Right out of the box, Galvanized NRS
Brakes have a technology you can see.
Rust resistant, unpainted Galvanized Steel
that incorporates an award winning
attachment technology we call SHARK-Metal™
NRS brake pads are the world's longest lasting brake pad for a reason. We use zinc plated steel construction and premium friction materials, making sure you have the same stopping power throughout the life of the entire brake pad.
NRS also uses patented SHARK-Metal™ technology ensuring the friction material never delaminates from the backing plate, giving you more secure, safer stops.
GALVANIZED STEEL CONSTRUCTION
Our brake pads will never rust, and never delaminate. All NRS metallic components are zinc plated for a longer lifespan.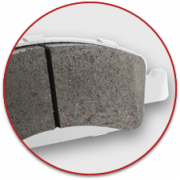 PREMIUM FRICTION MATERIALS
Whatever the driving conditions, whatever type of vehicle, NRS has a friction material to cover them. Tested to the breaking point, our friction was designed to exceed OEM standards.
PATENTED SHARK-Metal™ TECHNOLOGY
Our exclusive patented SHARK-Metal™ technology mechanically fuses the backing plate to the friction material, creating an indestructible bond.
Let's find the right Brakes for your Vehicle.